Innuendo Bingo is a game in which Radio One presenter Scott Mills plays clips to celebrities and broadcaster of people saying inappropriate things.
These inappropriate things are said within the context of a standard comment made on TV or radio, which is what makes Innuendo Bingo so hilarious. There is a huge catch, however, with Scott Mills requiring the two players to hold water in their mouth until they spray it over their opponent out of laughter.
Gerard Butler
Gerard Butler popped into the studio to play a game against Scott Mills' producer Chris Stark. Before the game had even begun, the cheeky Scottish movie star sprayed his water in the face of the young producer, as you can see below:
Rhianna
Now, this is not the global pop sensation, but rather a film expert from BBC Radio. She and Chris did not manage to go for long until they heard a man say: 'I sit in a darkened room and play with myself'.
Needless to say, Rhianna and Chris couldn't stay dry after hearing that and the outcome was pretty hilarious:
Daniel Radcliffe
The actor best known as Harry Potter took on Chris in the clip below. The pint sized actor can be seen cracking up just a few minutes into this game:
Will Ferrell
When we heard that this comedian was going to be on Innuendo Bingo, we knew it would be an awesome one. In typical Ferrell style, this clip has us laughing purely for the facial expressions!
Hugh Jackman
It was an Australian edition of this game which featured the hunky Hugh Jackman and the gorgeous Kylie Minogue. Though we often think of Jackman as quite serious, he definitely lets his cheeky side out here.
More Fun with Innuendo Bingo
We love these video clips but did you know that they also come in GIF form too? Click here to see new bingo releases as you pour over these hilarious moments from the show. They cut right to the chase and show you what makes the competitors crack.
If you want to see the moment of truth from the second time Gerard Butler played this game, here's the perfect GIF.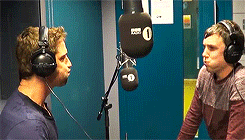 As you can see, Alex cracks just before Gerard and it was a photo finish! Clearly Gerard had been practicing since his first show!
We also have this hilarious clip from the Gerard Butler show, in which he adds a bit of witty banter into the game, just after spraying his opponent.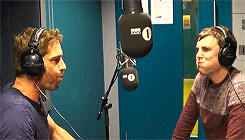 As bingo players, there's nothing we love more than a bit of a giggle at this game. We hope you enjoyed our list of our top Innuendo Bingo clips and that they had you in stitches too!